Bra Sizes Explained
Bras are sized using two measurements – the band, which is the measurement around your ribcage, where the bra underband sits, and is a number (like 34 or 36).
Then the cup, which is a letter, and represents the difference between the underbust measurement and the one around the fullest part of your bust. This is describing the volume of the bra cup.
As a general rule, each cup letter represents an inch of difference between those measurements, like this chart shows –
| | | | | | | | | | | |
| --- | --- | --- | --- | --- | --- | --- | --- | --- | --- | --- |
|  0 | 1 | 2 | 3 | 4 | 5 | 6 | 7 | 8 | 9 | 10 |
| AA | A | B | C | D | DD | E | F | FF | G | GG |
However, it's important to remember this is only a very approximate starting point, and many other factors go into getting the perfect size bra for you, such as the shape of your breasts, the style of the bra, and just personal preference.
We usually recommend finding your bra size by looking at how your existing best-fitting bra is fitting you, and working out from that to get the perfect size. Our fitting guide has everything you need to know to find your size using this method.
However if you feel like you're starting from scratch, or have changed size considerably, check out our how to measure bra size guide.
Want to know more about bra sizing in general? From which cup letters are double, to why there's two ways to find your band size, we've got the mysteries of bra sizes uncovered.
Bra Cup Sizes
The further down the alphabet a letter is, the larger the cup volume, starting with AA as the smallest. Some cup sizes have double letters (like AA, DD, or FF) and some just single letters. They increase equally in alphabetical order, one size at a time, and the doubles aren't half sizes, it's just that for some a double letter is used instead of single.
Like many DD+ or full bust brands, we use UK bra sizing, which tends to have a set method for using the double letters. You can use our international size charts to compare with your usual sizing if you're used to another country's system. If you're in the US and usually wearing DD+ specialist brands, you might be using UK sizing already - check the tag of your favourite bra or drop us a note and we can help guide you.
The chart below shows the cup size lettering that is generally used. It's important to note that a minority of brands do skip FF cup sizing though – if you are currently wearing a G cup in your favourite UK brand, take a look at that brand's size chart and see if they include a FF. If not, assume that your size is a FF in ours (and other brands that include it) 
| | | | | | | | | | |
| --- | --- | --- | --- | --- | --- | --- | --- | --- | --- |
| AA | A | B | C | D | DD | E | F | FF | G |
| GG | H | HH | I | J | JJ | K | L | LL | M |
Bra Band Sizes
There are two systems for finding your band size.
One is the "+4" method, commonly used by brands making cup sizes A-D/DD. The other is "+0" and is mostly used by DD+ specialists.
For both, you will measure around your ribcage, under your bust (where a bra band would usually sit) 
With +0, that will be the size of the bra band – for example, a 32" measurement will take a 32 band. With odd numbers, we usually suggest rounding up for comfort, so a 31" would also take a 32 band, and a 33" would take a 34.
With +4 however, you will add 4 inches onto the original measurement (and again, round up for odd numbers) So 32" will become a 36 band instead. 
The area where this creates an issue is if you take a DD cup size, and have been used to wearing +4 sized bands and then switch into full bust specialist sizes. If this sounds like you, our DD cup sizes explained article runs through everything you need to know to nail your size every time, wherever you shop.  
Sister Sizes 
The system of how bra cup and sizes interact with each other is sometimes to referred to as "sister sizes." It means that the same cup volume is used across varying letters, depending on the band measurement used. Our guide to bra sister sizes explains this in full detail, as well as why it's such a benefit to know about when online shopping for bras.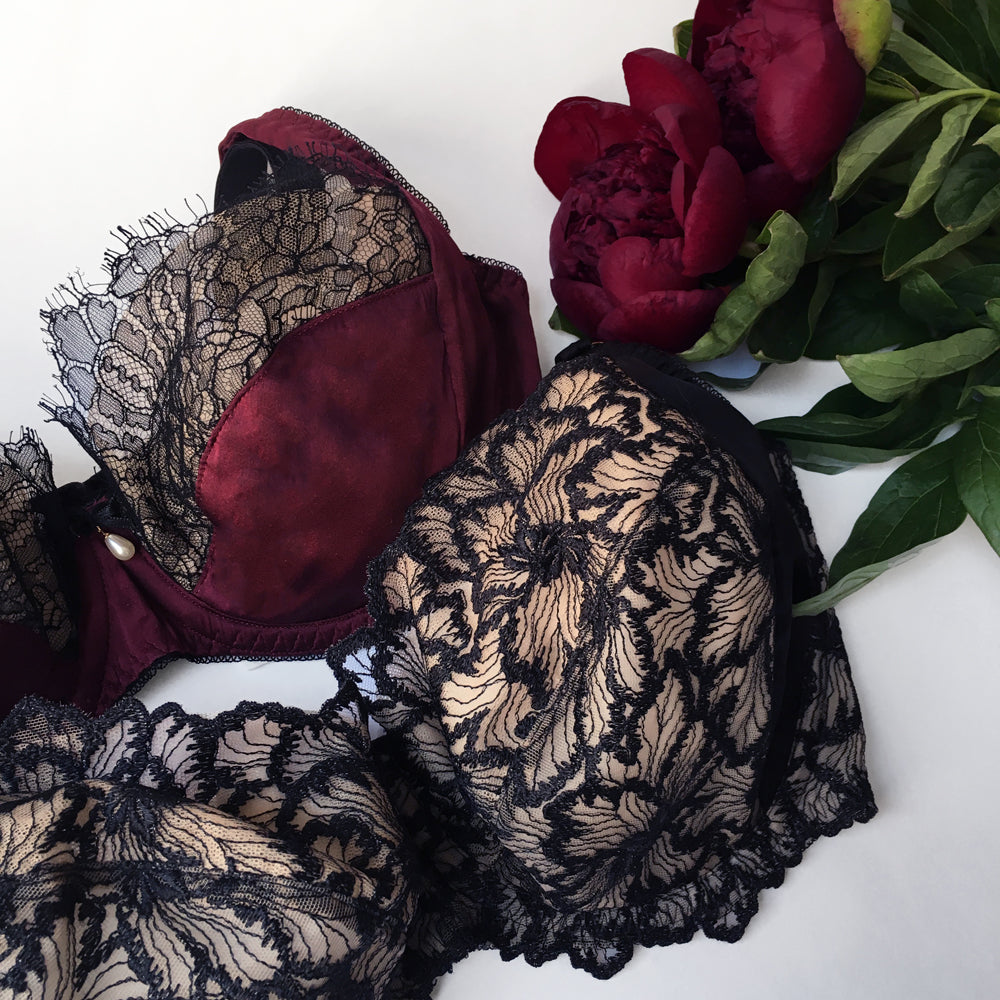 Ready to choose your perfect bra?
Shop all of our collections to discover a whole world of beautifully luxurious lingerie, designed especially for your size, in the finest silks, laces and bespoke embroideries.
SHOP ALL BRAS